Eric and Moni Stephenson specialize in creating artistic images of people that tell a story. Eric began shooting professionally years ago in New York City and was later a photographer for the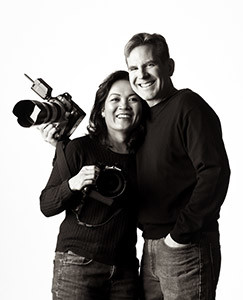 Denver Art Museum where he directed the Department of Photographic Services. Eric is joined by his wife and fellow photographer, Moni who moved to Denver from Cambodia when she was young.  Her unique aesthetic and artistic perspective adds another layer of sophistication to their photography. Their photographs have been published in numerous books and magazines worldwide. Their cameras have captured a long list of notable personalities such as Martha Stewart, music icons Itzhak Perlman, Quincy Jones, Delbert McClinton and David Broza, actresses Geena Davis, Debra Winger and Kathy Najimy, US Supreme Court Justice Ruth Bader Ginsberg, Nobel Prize winning author Elie Wiesel, President Barack Obama, Senators Michael Bennet and Cory Gardner, Mayor Michael Hancock, Governor John Hickenlooper and many others.
Since 2002 their primary focus has been on capturing the beauty, joy and magic in one of life's most sacred events… weddings. Their natural style of wedding photojournalism paired with fashion influenced images artistically capture the subtle nuances inherent in each couple's wedding day. They love natural light photography, but they are also know for their expertise in lighting so you get the best wedding photographs no matter what. Following each event they employ sophisticated post-production skills to make sure your wedding day photographs look absolutely stunning. They showcase these photographs in lavish custom-designed albums and custom prints that capture the love, humor, and beauty in this extraordinary day in their clients' lives.
Eric Stephenson Photography's wedding photography is a three-time winner of the prestigious ICON People's Choice Award for Best Photography. Their photographs have appeared in a variety of magazines including the New York Times, Grace Ormonde Wedding Style, Colorado Expressions, and Confetti. Their boutique portrait and wedding studio is located in Stapleton and open by appointment.